Buick Encore: Doing Your Own Service Work
Warning
It can be dangerous to work on your vehicle if you do not have the proper knowledge, service manual, tools, or parts. Always follow owner's manual procedures and consult the service manual for your vehicle before doing any service work.
If doing some of your own service work, use the proper service manual. It tells you much more about how to service the vehicle than this manual can. To order the proper service manual, see Publication Ordering Information
This vehicle has an airbag system.
Before attempting to do your own service work, see Servicing the Airbag-Equipped Vehicle
If equipped with remote vehicle start, open the hood before performing any service work to prevent remote starting the vehicle accidentally. See Remote Vehicle Start
Keep a record with all parts receipts and list the mileage and the date of any service work performed. See Maintenance Records
Caution
Even small amounts of contamination can cause damage to vehicle systems. Do not allow contaminants to contact the fluids, reservoir caps, or dipsticks.
Hood
Warning
Turn the vehicle off before opening the hood. If the engine is running with the hood open, you or others could be injured.
Components under the hood can get hot from running the engine.
To help avoid the risk of burning unprotected skin, never touch these components until they have cooled, and always use a glove or towel to avoid direct skin contact.
Clear any snow from the hood before opening.
To open the hood:
Pull the hood release lever with the symbol. It is on the lower left side of the instrument panel.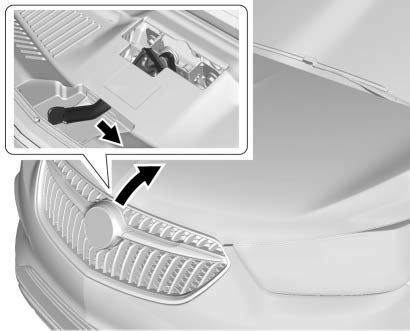 Go to the front of the vehicle and locate the secondary release lever under the front center of the hood. Push the secondary hood release lever to the right to release.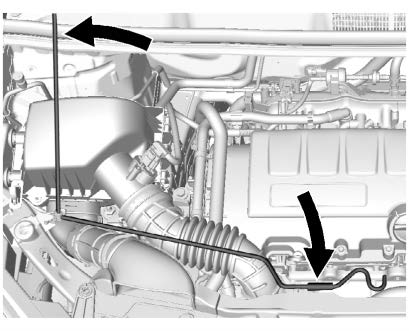 Lift the hood and release the hood prop rod from its retainer, in the front of the engine compartment. Securely insert the rod end into the slot marked with an arrow, on the underside of the hood.
To close the hood:
Before closing the hood, be sure all filler caps are on properly, and all tools are removed.
Lift the hood and remove the hood prop rod from the underside of the hood. Return the prop rod to its retainer. The prop rod must click into place when returning it to the retainer to prevent hood damage.
Lower the hood 20 cm (8 in) above the vehicle and release it. Check to make sure the hood is latched completely.

Repeat this process with additional force if necessary.
Warning
Do not drive the vehicle if the hood is not latched completely.
The hood could open fully, block your vision, and cause a crash.
You or others could be injured.
Always close the hood completely before driving.
READ NEXT:
Engine Air Cleaner/Filter Engine Oil Dipstick. See Engine Oil Engine Cooling Fan (Out of View). See Cooling System Engine Oil Fill Cap. See Engine Oil Engine Coolant Surge Tank and Pressur
When to Change Engine Oil This vehicle has a computer system that indicates when to change the engine oil and filter. This is based on a combination of factors which include engine revolutions, engine
How to Check Automatic Transmission Fluid It is not necessary to check the transmission fluid level. A transmission fluid leak is the only reason for fluid loss. If a leak occurs, take the vehicle to
SEE MORE:
Rain and wet roads can reduce vehicle traction and affect your ability to stop and accelerate. Always drive slower in these types of driving conditions and avoid driving through large puddles and deep-standing or flowing water. Warning Wet brakes can cause crashes. They might not work as well in a
CAUTION: Do not remove the pigtail from either the heated oxygen sensor (HO2S) or the oxygen sensor (O2S). Removing the pigtail or the connector will affect sensor operation. Handle the oxygen sensor carefully. Do not drop the HO2S. Keep the inline electrical connector and the louvered end free of