Buick Encore: Head Restraint Removal and Reinstallation
The rear outboard head restraints can be removed if they interfere with the proper installation of the child restraint.
To remove the head restraint:
Partially fold the seatback forward. See Rear Seats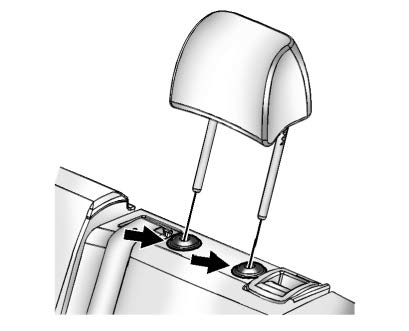 Press both buttons on the head restraint posts at the same time, and pull up on the head restraint.
Store the head restraint in a secure place.
When the child restraint is removed, reinstall the head restraint before the seating position is used.
Warning
With head restraints that are not installed and adjusted properly, there is a greater chance that occupants will suffer a neck/ spinal injury in a crash. Do not drive until the head restraints for all occupants are installed and adjusted properly.
To reinstall the head restraint: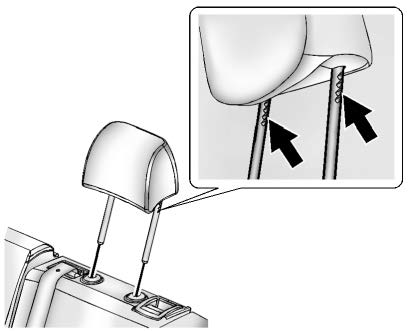 Insert the head restraint posts into the holes in the top of the seatback. The notches on the posts must face the driver side of the vehicle.
Push the head restraint down.

If necessary, press the height adjustment release button to further lower the head restraint.

See Rear Seats

Try to move the head restraint to make sure it is locked in place.
Replacing LATCH System Parts After a Crash
Warning
A crash can damage the LATCH system in the vehicle. A damaged LATCH system may not properly secure the child restraint, resulting in serious injury or even death in a crash. To help make sure the LATCH system is working properly after a crash, see your dealer to have the system inspected and any necessary replacements made as soon as possible.
If the vehicle has the LATCH system and it was being used during a crash, new LATCH system parts may be needed.
New parts and repairs may be necessary even if the LATCH system was not being used at the time of the crash.
READ NEXT:
When securing a child restraint with the seat belts in a rear seat position, study the instructions that came with the child restraint to make sure it is compatible with this vehicle. If the child re
This vehicle has airbags. A rear seat is a safer place to secure a forward-facing child restraint. See Where to Put the Restraint In addition, the vehicle has a passenger sensing system which is desig
SEE MORE:
CLUTCH PEDAL REPLACEMENT NOTE: The clutch pedal is part of the brake, accelerator, and clutch pedal assembly and cannot be serviced separately. To replace the brake, accelerator and clutch pedal assembly, refer to Brake, Accelerator, and Clutch Pedal Replacement . CLUTCH MASTER CYLINDER RESERVOIR
INTRODUCTION ARROWS AND SYMBOLS This service manual uses various symbols in order to describe different service operations. Fig. 1: Identifying Different Service Operations Symbols ACRONYMS AND UNITS Acronyms Units CUSTOMER CONCERN VERIFICATION SHEETS The GM Customer Concern Verific