Buick Encore: Antilock Brake System (ABS)
The Antilock Brake System (ABS) helps prevent a braking skid and maintain steering while braking hard.
ABS performs a system check when the vehicle is first driven.
A momentary motor or clicking noise may be heard while this test is going on, and the brake pedal may move slightly. This is normal.

If there is a problem with ABS, this warning light stays on. See Antilock Brake System (ABS) Warning Light
ABS does not change the time needed to get a foot on the brake pedal and does not always decrease stopping distance. If you get too close to the vehicle ahead, there will not be enough time to apply the brakes if that vehicle suddenly slows or stops. Always leave enough room ahead to stop, even with ABS.
Using ABS
Do not pump the brakes. Just hold the brake pedal down firmly.
Hearing or feeling ABS operate is normal.
Braking in Emergencies
ABS allows steering and braking at the same time. In many emergencies, steering can help even more than braking.
Parking Brake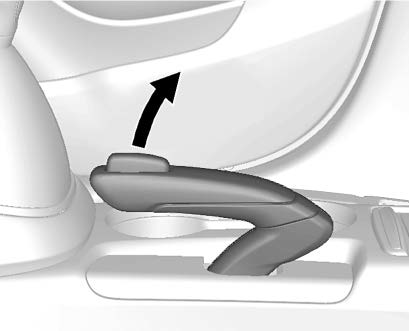 To set the parking brake, hold the brake pedal down and pull up on the parking brake lever. If the ignition is on, the brake system warning light will come on. See Brake System Warning Light
To release the parking brake, hold the brake pedal down. Pull the parking brake lever up until you can press the release button. Hold the release button in as you move the brake lever all the way down.
Caution
Driving with the parking brake on can overheat the brake system and cause premature wear or damage to brake system parts.
Make sure that the parking brake is fully released and the brake warning light is off before driving.
READ NEXT:
Brake Assist detects rapid brake pedal applications due to emergency braking situations and provides additional braking to activate the Antilock Brake System (ABS) if the brake pedal is not pushed har
Traction Control/Electronic Stability Control System Operation The vehicle has a Traction Control System (TCS) and StabiliTrak/ Electronic Stability Control (ESC), an electronic stability control syst
The cruise control lets the vehicle maintain a speed of about 40 km/h (25 mph) or more without keeping your foot on the accelerator. Cruise control does not work at speeds below 40 km/h (25 mph). Warn
SEE MORE:
The front passenger seatback folds flat. Warning If you fold the seatback forward to carry longer objects, such as skis, be sure any such cargo is not near an airbag. In a crash, an inflating airbag might force that object toward a person. This could cause severe injury or even death. Secure objects
Warning With head restraints that are not installed and adjusted properly, there is a greater chance that occupants will suffer a neck/ spinal injury in a crash. Do not drive until the head restraints for all occupants are installed and adjusted properly. Front Seats The front seats have adjustable