Buick Encore: Automatic Reversal System Override
Warning
If automatic reversal system override is active, the window will not reverse automatically. You or others could be injured and the window could be damaged.
Before using automatic reversal system override, make sure that all people and obstructions are clear of the window path.
When the engine is on, override the automatic reversal system by pulling and holding the window switch if conditions prevent it from closing.
Programming the Power Windows
Programming may be necessary if the vehicle battery has been disconnected or discharged. If the window is unable to express-up, program each express-close window:
Close all doors.
Turn the ignition on or to ACC/ ACCESSORY.
Partially open the window to be programmed. Then close it and continue to pull the switch briefly after the window has fully closed.
Open the window and continue to press the switch briefly after the window has fully opened.
Sun Visors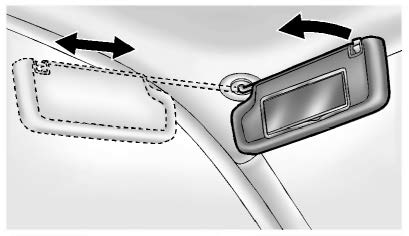 Pull the sun visor down to block glare. If equipped, detach the sun visor from the center mount to pivot to the side window or to extend along the rod.
If equipped, there is a lighted mirror on the sun visor. Lift the cover to open.
READ NEXT:
Sunroof If equipped, the sunroof only operates when the ignition is on or when Retained Accessory Power (RAP) is active. See Retained Accessory Power (RAP) Slide Switch Express-Open/Express-Close : P
Warning With head restraints that are not installed and adjusted properly, there is a greater chance that occupants will suffer a neck/ spinal injury in a crash. Do not drive until the head restraints
SEE MORE:
Warning Things that can burn could touch hot exhaust parts under the vehicle and ignite. Do not park over papers, leaves, dry grass, or other things that can burn. Extended Parking It is best not to park with the vehicle running. If the vehicle is left running, be sure it will not move and there is
WARNING: The engine must be running when the transmission fluid fill plug is removed, or excessive fluid loss will occur. Transmission fluid may be hot. Since the actual fluid level is unknown, stand clear when removing the fill plug. Have a container ready to capture any lost fluid. Do not turn th