Buick Encore: Shoulder Belt Height Adjuster
The vehicle has a shoulder belt height adjuster for the driver and front outboard passenger seating positions.
Adjust the height so the shoulder portion of the belt is on the shoulder and not falling off of it. The belt should be close to, but not contacting, the neck. Improper shoulder belt height adjustment could reduce the effectiveness of the seat belt in a crash. See How to Wear Seat Belts Properly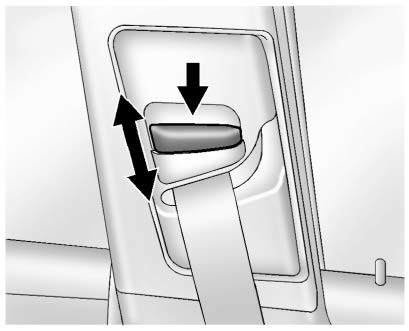 To move the shoulder belt height adjuster down, push down on the release button and move the height adjuster to the desired position. You can move the height adjuster up by pushing up on the shoulder belt guide.
After the adjuster is set to the desired position, try to move it down without pushing the release button to make sure it has locked into position.
Seat Belt Pretensioners
This vehicle has seat belt pretensioners for the front outboard occupants. Although the seat belt pretensioners cannot be seen, they are part of the seat belt assembly.
They can help tighten the seat belts during the early stages of a moderate to severe frontal, near frontal, or rear crash if the threshold conditions for pretensioner activation are met. Seat belt pretensioners can also help tighten the seat belts in a side crash or a rollover event.
Pretensioners work only once. If the pretensioners activate in a crash, the pretensioners and probably other parts of the vehicle's seat belt system will need to be replaced.
See Replacing Seat Belt System Parts after a Crash
Do not sit on the outboard seat belt while entering or exiting the vehicle or at any time while sitting in the seat. Sitting on the seat belt can damage the webbing and hardware.
Rear Seat Belt Comfort Guides
Rear seat belt comfort guides may provide added seat belt comfort for older children who have outgrown booster seats and for some adults.
When installed on a shoulder belt, the comfort guide positions the belt away from the neck and head.
Comfort guides are available through your dealer for the rear outboard seating positions.
Instructions are included with the guides.
READ NEXT:
Seat belts work for everyone, including pregnant women. Like all occupants, they are more likely to be seriously injured if they do not wear seat belts. A pregnant woman should wear a lap-shoulder b
Keep belts clean and dry. Seat belts should be properly cared for and maintained. Seat belt hardware should be kept dry and free of dust or debris. As necessary, exterior hard surfaces and seat belt
The vehicle has the following airbags: A frontal airbag for the driver A frontal airbag for the front outboard passenger A seat-mounted side impact airbag for the driver A seat-mounted side imp
SEE MORE:
The power steering control module scan tool data parameters list contains all power steering related parameters that are available on the scan tool. The list is arranged in alphabetical order. A given parameter may appear in any one of the data lists. Power Steering Control Module Scan Tool Data P
Rear wheel drive module differential clutch control module replacement Removal Procedure Raise and support the vehicle. Refer to Lifting and Jacking the Vehicle . NOTE: The propeller shaft does not have to be removed from this vehicle to replace rear differential module (RDM). Remove the pro