Buick Encore: Battery Replacement
Warning
Never allow children to play with the RKE transmitter. The transmitter contains a small battery, which can be a choking hazard. If swallowed, internal burns can occur, resulting in severe injury or death. Seek medical attention immediately if a battery is swallowed.
Warning
To avoid personal injury, do not touch metal surfaces on the RKE transmitter when it has been exposed to extreme heat. These surfaces can be hot to the touch at temperatures above 59 ºC (138 ºF).
Caution
When replacing the battery, do not touch any of the circuitry on the transmitter. Static from your body could damage the transmitter.
Caution
Always replace the battery with the correct type. Replacing the battery with an incorrect type could potentially create a risk of battery explosion. Dispose of used batteries according to instructions and local laws. Do not attempt to burn, crush, or cut the used battery, and avoid exposing the battery to environments with extremely low air pressures or high temperatures.
Replace the battery if the REPLACE BATTERY IN REMOTE KEY message displays in the DIC.
The battery is not rechargeable. To replace the battery: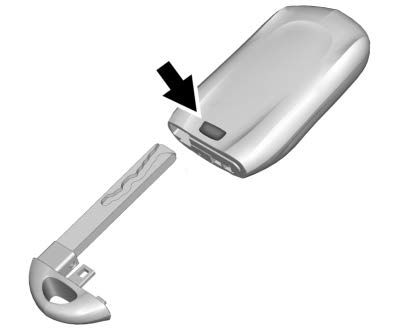 Press the button on the back of the RKE transmitter and pull the key out. Never pull the key out without pressing the button.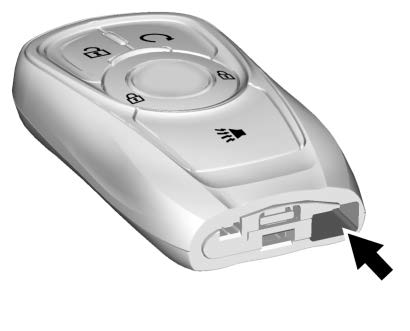 Separate the two halves of the transmitter using a flat tool inserted into the area near the key slot.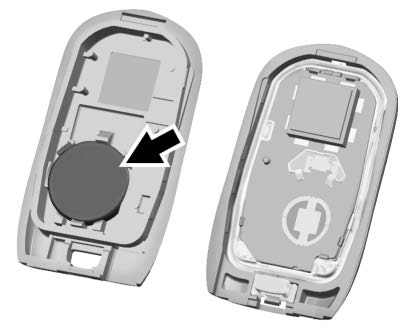 Remove the battery by pushing on the battery and sliding it toward the bottom of the transmitter.
Insert the new battery, positive side facing the back cover.

Push the battery down until it is held in place. Replace with a CR2032 or equivalent battery.

Snap the battery cover back on to the transmitter.
Reinsert the key.
READ NEXT:
The vehicle may have this feature that allows you to start the engine from outside the vehicle. : This button will be on the RKE transmitter if the vehicle has remote start. The climate control sys
Warning Unlocked doors can be dangerous. Passengers, especially children, can easily open the doors and fall out of a moving vehicle. The doors can be unlocked and opened while the vehicle is
: Press to unlock the doors. : Press to lock the doors. Delayed Locking This feature delays the locking of the doors until five seconds after all doors are closed. Delayed locking can only be tur
SEE MORE:
Steering linkage inner tie rod inspection Special Tools GE-8001 Dial Indicator Set For equivalent regional tools, refer to Special Tools. NOTE: This inspection procedure does not supersede local government required inspections that have more stringent requirements. Turn the ignition key to the ON
Vibration theory and terminology Vibration Theory The designs and engineering requirements of vehicles have undergone drastic changes over the last several years. Vehicles are stiffer and provide more isolation from road input than they did previously. The structures of today's stiffer vehicles a