Buick Encore: Diagnostic information and procedures
Specifications
FASTENER TIGHTENING SPECIFICATIONS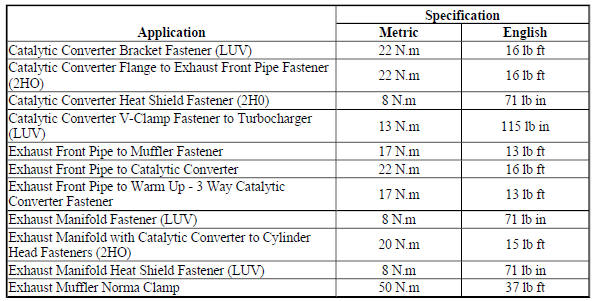 DIAGNOSTIC INFORMATION AND PROCEDURES
SYMPTOMS - ENGINE EXHAUST
Review the exhaust system description in order to familiarize yourself with the exhaust system components and the intended function of the components. Refer to Exhaust System Description.
All diagnostics on a vehicle should follow a logical process. Strategy Based Diagnostics is a uniform approach for repairing all systems. The diagnostic flow is the place to start when repairs are necessary and may always be used in order to resolve a system problem. For a detailed explanation, refer to Strategy Based Diagnosis .
Visual/Physical Inspection
Inspect for aftermarket or non-OEM devices such as, but not limited to; tailpipe extensions, headers, and exhaust cutouts. Any aftermarket exhaust system devices could affect the operation and proper performance of the exhaust system.
Verify the exact operating conditions under which the concern exists. Note factors such as engine RPM, engine temperature, engine load, and frequency of concern.
Inspect the easily accessible or visible system components for obvious damage or conditions which could cause any symptom.
Intermittent
Test the vehicle under the same conditions that the customer reported in order to verify the system is operating as designed.
Symptom List
Refer to a symptom diagnostic procedure from the following list in order to diagnose the symptom:
Refer to Restricted Exhaust
Refer to Restricted Exhaust
Refer to Restricted Exhaust
Refer to Restricted Exhaust
Refer to Exhaust Leakage
Refer to Exhaust Leakage
Refer to Exhaust Noise
Refer to Exhaust Noise
Exhaust buzz, groan, hum noise
Refer to Exhaust Noise
Restricted exhaust
Diagnostic Aids
WARNING: Refer to Exhaust Service Warning
For dual exhaust systems a quick check of exhaust flow will help determine which side of the exhaust system is restricted. The side that has less exhaust flow is the side that will be suspect, and diagnosis should begin there.
NOTE: This will not apply if the dual exhaust is equipped with an "H" pipe or similar configuration in which the exhaust flow would be equalized.
Test Description
The numbers below refer to the step numbers on the diagnostic table.
4
The exhaust system has very low back pressure under normal conditions. If the exhaust system is restricted, a significant increase in the exhaust pressure is noticed on the J-35314-A Exhaust Back Pressure Gauge.
Removing the AIR check valve or HO2S sensor may set a DTC. When finishing this diagnostic table, be sure to clear all codes.
5
This step will isolate the catalytic converter from the remainder of the exhaust system.
8
Confirming that the condition has been fixed is essential. If the symptom still exists and the vehicle has a dual exhaust system, proceed to Step 2 and repeat diagnostic procedure on the opposite exhaust pipe.
Restricted Exhaust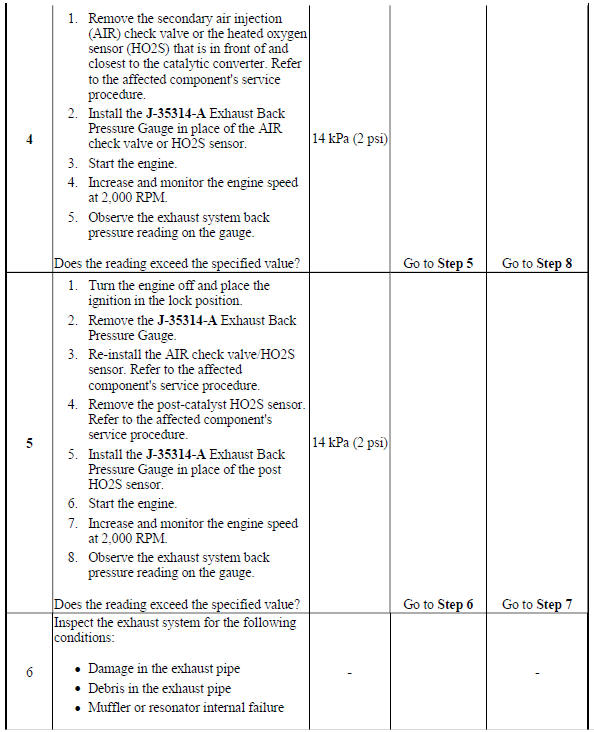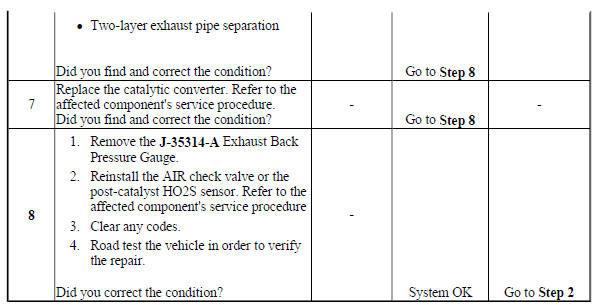 EXHAUST LEAKAGE
Exhaust Leakage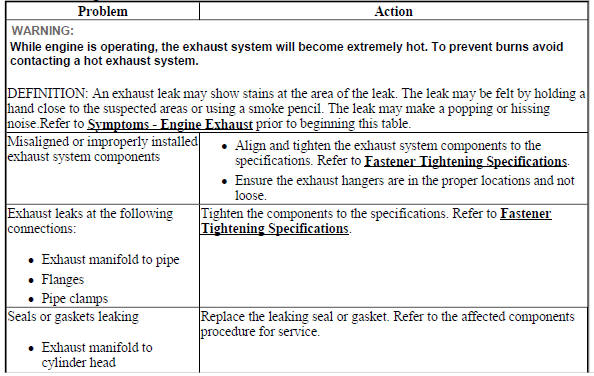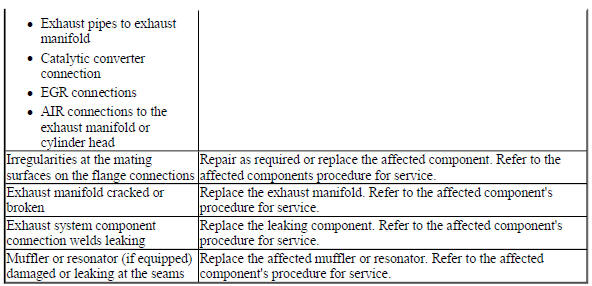 EXHAUST NOISE
Exhaust Noise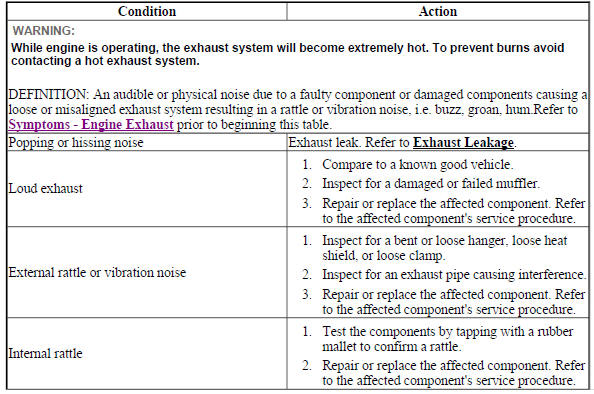 READ NEXT:
Exhaust front pipe replacement (LUV) Removal Procedure WARNING: Refer to Exhaust Service Warning . WARNING: Refer to Protective Goggles and Glove Warning . Raise and support the vehicle. Refer to Li
EXHAUST SYSTEM DESCRIPTION NOTE: Use of non-OEM parts may cause driveability concerns. The exhaust system carries exhaust gases, treated by the catalytic converter, through a resonator, if applicable
FIRING ORDER & CYLINDER IDENTIFICATION NOTE: This information is intended as a quick reference for firing order and cylinder identification only. The information provided covers many vehicles and
SEE MORE:
Test Description The numbers below refer to the step numbers on the diagnostic table: 2 This test will determine the effect of turning input on the vibration. 6 This test will determine the effect of an initial heavy torque load on the vibration. 7 Damaged or worn wheel drive shafts may cause a noi
When securing a child restraint with the seat belts in a rear seat position, study the instructions that came with the child restraint to make sure it is compatible with this vehicle. If the child restraint has the LATCH system, see Lower Anchors and Tethers for Children (LATCH System) for how and