Buick Encore: Diagnostic information and procedures
SYMPTOMS - TRANSFER CASE
Strategy Based Diagnostics
Review the system operations in order to familiarize yourself with the system functions. Refer to Transfer Case Disassembled View, Transfer Case Description and Operation, and Rear Drive Axle Description and Operation , . All diagnosis on a vehicle should follow a logical process. Strategy based diagnostics is a uniform approach for repairing all systems. The diagnostic flow may always be used in order to resolve a system condition. The diagnostic flow is the place to start when repairs are necessary. For a detailed explanation, refer to Strategy Based Diagnosis .
Visual/Physical Inspection
Inspect for aftermarket devices, which could affect the operation of the vehicle. Refer to Checking Aftermarket Accessories .
Inspect the easily accessible or visible system components for obvious damage or conditions, which could cause the symptom.
Inspect for the correct lubricant levels and the proper viscosities.
Verify the exact operating conditions under which the concern exists. Note factors such as vehicle speed, road conditions, ambient temperature, and other specifics.
Compare the driving characteristics or sounds, if applicable, to a known good vehicle and ensure you are not trying to correct a normal condition.
Intermittent
Test the vehicle under the same conditions that the customer reported in order to verify the system is operating properly.
Symptom List
Refer to a symptom diagnostic procedure from the following list in order to diagnose the symptom:
Diagnostic System Check - Vehicle .
Noisy in Drive.
Noisy When Coasting.
Intermittent Noise.
Constant Noise.
Transfer Case Leak Diagnosis.
NOISY IN DRIVE
Noisy in Drive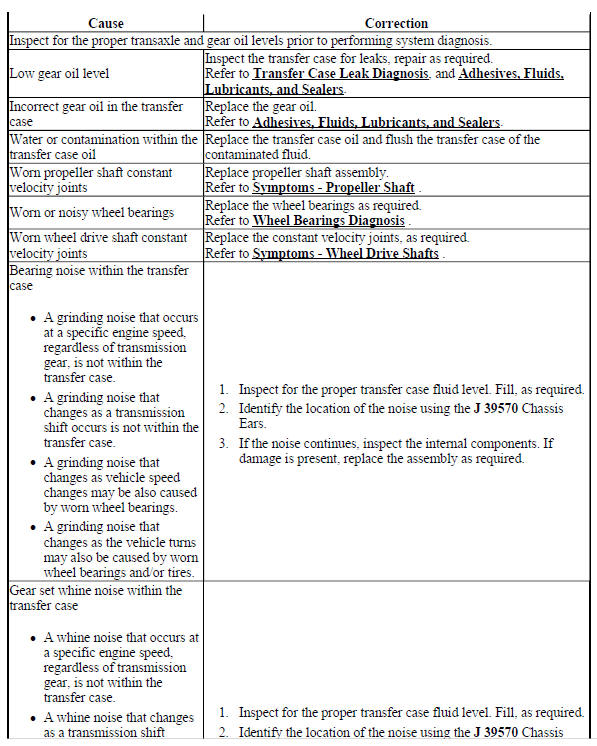 NOISY WHEN COASTING
Noisy When Coasting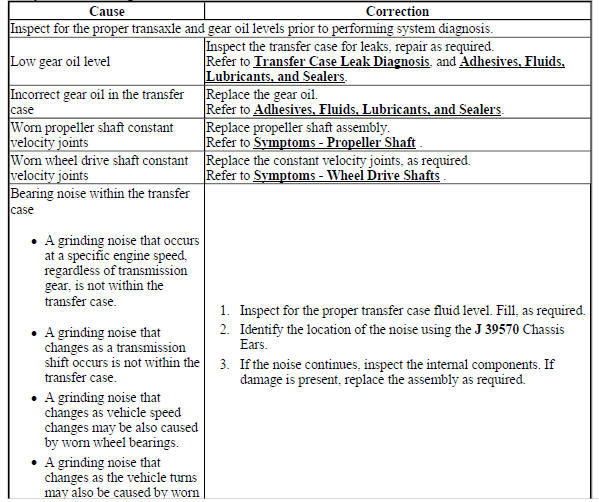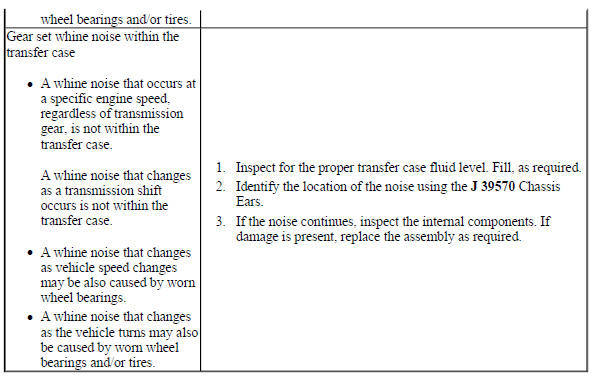 INTERMITTENT NOISE
Intermittent Noise

CONSTANT NOISE
Constant Noise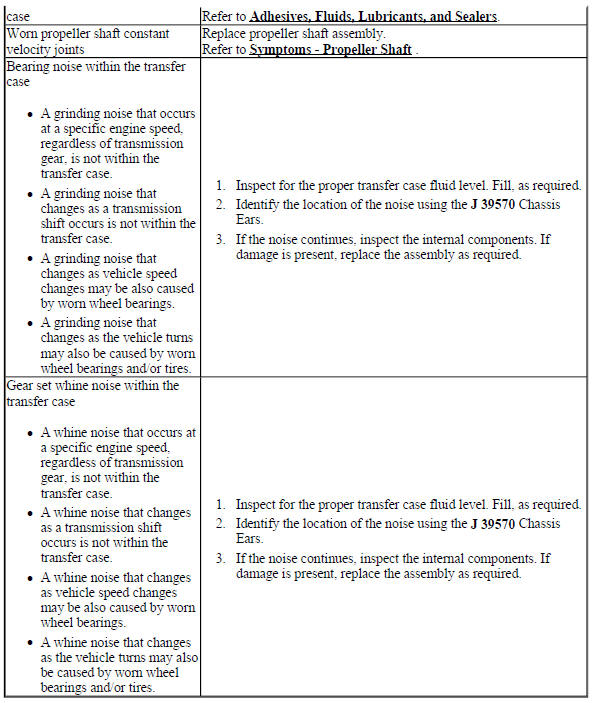 TRANSFER CASE LEAK DIAGNOSIS
Transfer Case Leak Diagnosis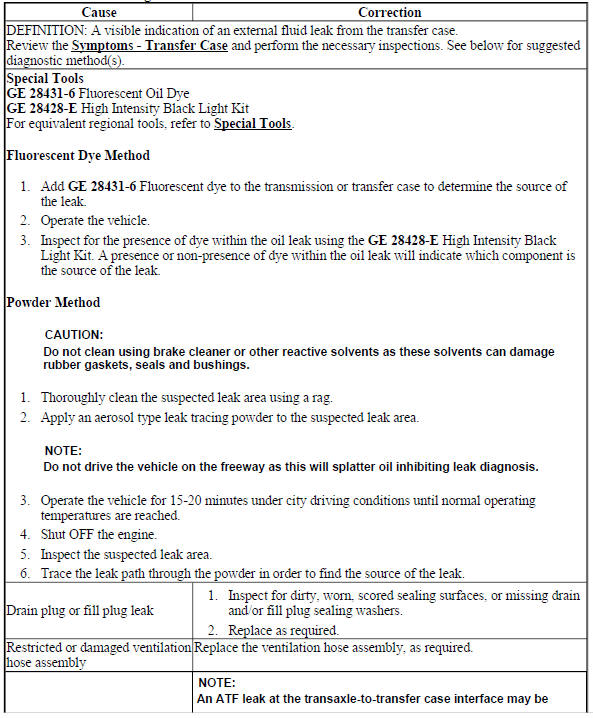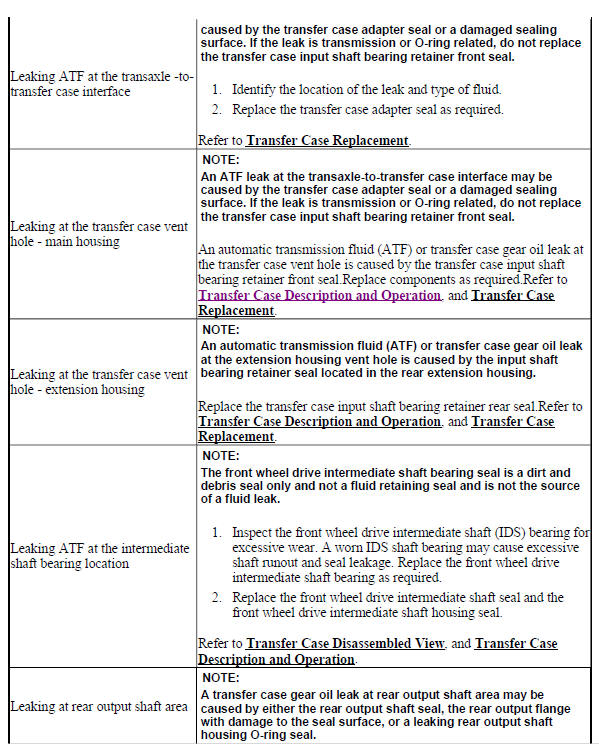 READ NEXT:
Transfer case fluid replacement Removal Procedure Raise and support the vehicle. Refer to Lifting and Jacking the Vehicle . Place a suitable drain pan under the transfer case. Fig. 2: Transfer
Transfer case adapter disassemble (MHB) Fig. 40: Transfer Case Adapter (MHB) Transfer Case Adapter Disassemble (MHB) TRANSFER CASE ADAPTER DISASSEMBLE (M7Y, MZ4) Fig. 41: Transfer Case Adapter
Transfer case identification Fig. 71: Transfer Case Primary Identification Label The transfer case primary identification label (1) is located on the rear extension housing. The transfer case secon
SEE MORE:
This article is generic in nature and all information does not apply to all vehicles including those without a liquid cooling system. For vehicle specific information, see the appropriate articles in the ENGINE category. DESCRIPTION The liquid cooling system consists of a radiator, water pump, the
Front View Camera Module Replacement If the Front View Camera Module needs to be replaced, the following procedures must be performed: Connect a scan tool to the vehicle and access Service Programming System (SPS). Perform the SPS function Front View Camera Module - Programming and follow th