Buick Encore: Doors
Liftgate
Warning
Exhaust gases can enter the vehicle if it is driven with the liftgate, hatch/trunk open, or with any objects that pass through the seal between the body and the hatch/trunk or liftgate. Engine exhaust contains carbon monoxide (CO) which cannot be seen or smelled. It can cause unconsciousness and even death.
If the vehicle must be driven with the liftgate or hatch/trunk open:
Close all of the windows.
Fully open the air outlets on or under the instrument panel.
Adjust the climate control system to a setting that brings in only outside air and set the fan speed to the highest setting. See "Climate Control Systems" in the Index.
If the vehicle is equipped with a power liftgate, disable the power liftgate function.
For more information about carbon monoxide, see Engine Exhaust
Caution
To avoid damage to the liftgate or liftgate glass, make sure the area above and behind the liftgate is clear before opening it.
To open the liftgate, press

on the power door lock switch or press

on the RKE transmitter to unlock all doors. See Power Door Locks and Remote Keyless Entry (RKE) System Operation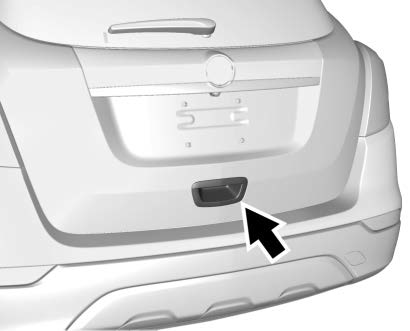 Press the touch pad below the license plate and lift up.
The liftgate may also be opened while the vehicle is locked by pressing the touch pad while the RKE transmitter is within 1m (3 ft) of the rear of the vehicle.
To close the liftgate, push from the center to ensure that it fully latches.
READ NEXT:
This vehicle has theft-deterrent features; however, they do not make the vehicle impossible to steal. Vehicle Alarm System If equipped with an anti-theft alarm system, the indicator light, on the ins
See Radio Frequency Statement Immobilizer Operation This vehicle has a passive theft-deterrent system. The system does not have to be manually armed or disarmed. The vehicle is automatically immobili
SEE MORE:
Select and the following may be displayed: Unlocked Door Anti Lock Out Auto Door Unlock Delayed Door Lock Unlocked Door Anti Lock Out When on, this feature will keep the driver door from locking when the door is open. If Off is selected, the Delayed Door Lock menu will be available. Select Off
TIRE AND WHEEL ASSEMBLY BALANCING - OFF VEHICLE WARNING: Failure to adhere to the following precautions before tire balancing can result in personal injury or damage to components: Clean away any dirt or deposits from the inside of the wheels. Remove any stones from the tread. Wear eye protecti