Buick Encore: Vehicle Security
This vehicle has theft-deterrent features; however, they do not make the vehicle impossible to steal.
Vehicle Alarm System
If equipped with an anti-theft alarm system, the indicator light, on the instrument panel near the windshield, shows the status of the system.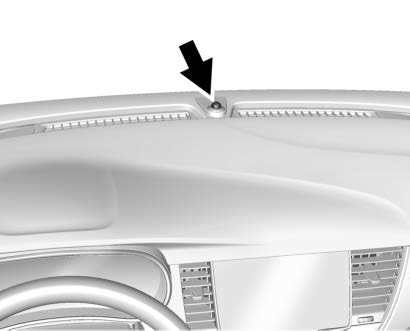 Off : Alarm system is disarmed.
On Solid : Vehicle is secured during the delay to arm the system.
Fast Flast : Vehicle is unsecured.
A door, the liftgate, or the hood is open.
Slow Flash : Alarm system is armed.
Arming the Alarm System
Turn off the vehicle.
Lock the vehicle in one of two ways:
Use the RKE transmitter.
With a door open, press on the interior of the door.
After 30 seconds the alarm system will arm, and the indicator light will begin to slowly flash indicating the alarm system is operating.

Pressing on the RKE transmitter a second time will bypass the 30-second delay and immediately arm the alarm system.
The vehicle alarm system will not arm if the doors are locked with the key.
If any door or the hood is opened without first unlocking with the RKE transmitter, the horn will chirp and the lights will flash to indicate pre-alarm. If the vehicle is not started, or the door is not unlocked by pressing

on the RKE transmitter during the 10-second pre-alarm, the alarm will be activated.
The alarm will also be activated if any door or the the hood is opened without first disarming the system.
When the alarm is activated, the turn signals flash and the horn sounds for about 30 seconds. The alarm system will then re-arm to monitor for the next unauthorized event.
Disarming the Alarm System
To disarm the alarm system or turn off the alarm if it has been activated:
Press on the RKE transmitter.
Start the vehicle.
Avoid setting off the alarm by accident:
Lock the vehicle after all occupants have exited and all doors are closed.
Always unlock the vehicle with the RKE transmitter.
Unlocking the driver door with the key will not disarm the system or turn off the alarm.
How to Detect a Tamper Condition
If

is pressed and the horn chirps and the lights flash three times, an attempted break-in has occurred while the system was armed.
READ NEXT:
See Radio Frequency Statement Immobilizer Operation This vehicle has a passive theft-deterrent system. The system does not have to be manually armed or disarmed. The vehicle is automatically immobili
Convex Mirrors Warning A convex mirror can make things, like other vehicles, look farther away than they really are. If you cut too sharply into the right lane, you could hit a vehicle on the right. C
Interior Rearview Mirrors Adjust the rearview mirror for a clear view of the area behind your vehicle. If equipped with OnStar, the vehicle may have three control buttons at the bottom of the mirror.
SEE MORE:
Tire and wheel removal and installation Special Tools CH-41013 Rotor Resurfacing Kit CH-42450-A Wheel Hub Resurfacing Kit For equivalent regional tools, refer to Special Tools. Removal Procedure Raise and support the vehicle. Refer to Lifting and Jacking the Vehicle . Remove the wheel cover
Schematic wiring diagrams IMMOBILIZER WIRING SCHEMATICS (ENCORE) Immobilzer System Fig. 1: Immobilzer System IMMOBILIZER WIRING SCHEMATICS (Encore) Immobilzer System Fig. 2: Immobilzer System