Buick Encore: Driver Information Center (DIC)
The Driver Information Center (DIC) displays information about the vehicle. It also displays warning messages if a system problem is detected. See Vehicle Messages. All messages appear in the DIC display in the center of the instrument cluster.
The vehicle may also have features that can be customized through the controls on the radio. See Vehicle Personalization
DIC Operation and Displays
The DIC has different displays which can be accessed by using the DIC buttons on the turn signal lever.
The DIC displays trip, fuel, and vehicle system information, and warning messages if a system problem is detected.
The bottom of the DIC display shows the position of the shift lever and the odometer. It may also show the direction the vehicle is driving.
In cold weather the DIC display may change slowly. This is normal and will move more quickly as the vehicle's interior temperature rises.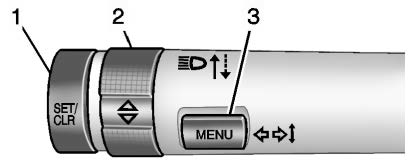 Use the controls to open and scroll through the different items and displays.
SET/CLR : Press to set or clear the menu item displayed.

: Turn the band to scroll through the items in each menu.
MENU : Press to display the Trip/ Fuel Menu and the Vehicle Information Menu. This button is also used to return to or exit the last screen displayed on the DIC.
DIC Info Page Options
The info pages on the DIC can be turned on or off through the Options app.
Press MENU to access the cluster applications.
Use to scroll to the Options menu and press SET/CLR.
Use to choose the Info pages. Press SET/CLR to select.
Select Edit List.
Use to move through the list of possible information displays.
Press SET/CLR while an item is highlighted to select or deselect that item. When an item is selected, a checkmark will appear next to it.
To exit, scroll to Exit and select.
READ NEXT:
Press MENU on the turn signal lever until the Info menu is displayed. Use scroll through the menu items. Not all items are available on every vehicle. Digital Speedometer Trip A or B, Average Fuel
Messages displayed on the DIC indicate the status of the vehicle or some action that may be needed to correct a condition. Multiple messages may appear one after another. The messages that do not req
SEE MORE:
Test Description The numbers below refer to the step numbers on the diagnostic table. 5 Obtaining rotational speed for the components rotating at tire/wheel speed is critical to systematically eliminating specific vehicle component groups. These component rotational speeds can be generated by usin
DTC C0176: Control module temperature sensor high temperature DIAGNOSTIC CODE INDEX DTC C0176: CONTROL MODULE TEMPERATURE SENSOR HIGH TEMPERATURE Diagnostic Instructions Diagnostic Instructions Perform the Diagnostic System Check - Vehicle prior to using this diagnostic procedure. Review Str