Buick Encore: Exterior Lamp Controls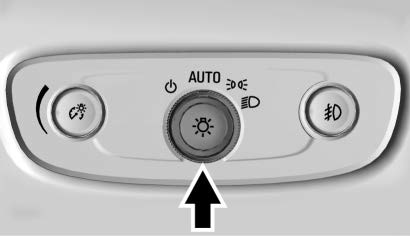 The exterior lamp control is on the instrument panel to the left of the steering column.
There are four positions:

: Turns the exterior lamps off and deactivates the AUTO mode. Turn O again to reactivate the AUTO mode.
In Canada, the headlamps will automatically reactivate when the vehicle is shifted out of P (Park).
AUTO : Turns the exterior lamps on and off automatically depending on outside lighting.

: Turns on the parking lamps including all lamps, except the headlamps.

: Turns on the headlamps together with the parking lamps and instrument panel lights. A warning chime sounds if the driver door is opened when the ignition is off and the headlamps are on.
Headlamp High/ Low-Beam Changer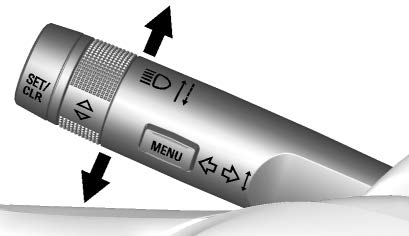 : Push the turn signal lever away from you and release, to turn the high beams on.
To return to low beams, push the lever again or pull it toward you and release.

This indicator light turns on in the instrument cluster when the high-beam headlamps are on.
Flash-to-Pass
To flash the high beams, pull the turn signal lever all the way toward you. Then release it.
Daytime Running Lamps (DRL)
Daytime Running Lamps can make it easier for others to see the front of your vehicle during the day. Fully functional DRL are required on all vehicles first sold in Canada.
A light sensor on top of the instrument panel makes the DRL work, so be sure it is not covered.
The DRL system makes the low-beam headlamps come on at a reduced brightness when the following conditions are met:
The ignition is on.
The exterior lamp control is in AUTO.
The engine is running.
When the DRL are on, the taillamps, sidemarker, instrument panel, and other lamps will not be on.
The headlamps automatically change from DRL to the regular headlamps depending on the darkness of the surroundings. The other lamps that come on with the headlamps will also come on.
When it is bright enough outside, the headlamps go off and the DRL come on.
The DRL turn off when the headlamps are turned to

or the ignition is off. For vehicles first sold in Canada, this control only works when the vehicle is parked.
READ NEXT:
When it is dark enough outside and the exterior lamp control is in the automatic position, the headlamps come on automatically. See Exterior Lamp Controls The vehicle has a light sensor on top of th
Instrument Panel Illumination Control The brightness of the instrument cluster display, infotainment display and controls, steering wheel controls, and all other illuminated controls, as well as fea
Entry Lighting Some exterior lamps and interior lamps turn on briefly at night, or in areas with limited lighting, when is pressed on the Remote Keyless Entry (RKE) transmitter. When a door is opened
SEE MORE:
The inflatable restraint sensing and diagnostic module (SDM) must be programmed with the proper calibration software. The module stores and utilizes this information however if it is not properly configured with the correct calibration software, the SDM will not control all of the vehicle feature
NOTE: DO NOT program a side object sensor - left unless directed to by a service procedure or a service bulletin. If the side object sensor - left is not properly configured with the correct calibration software, the side object sensor - left will not control all of the vehicle features prope