Buick Encore: Lumbar Adjustment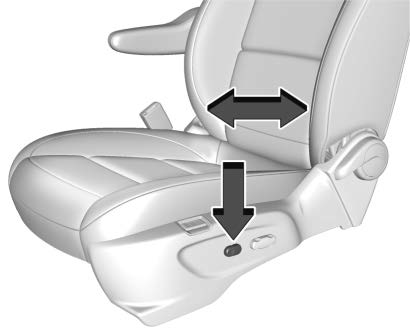 If available, press the front or rear of the switch to increase or decrease lumbar support. Release the switch when the desired level of support is reached.
Reclining Seatbacks
Warning
If either seatback is not locked, it could move forward in a sudden stop or crash. That could cause injury to the person sitting there.
Always push and pull on the seatbacks to be sure they are locked.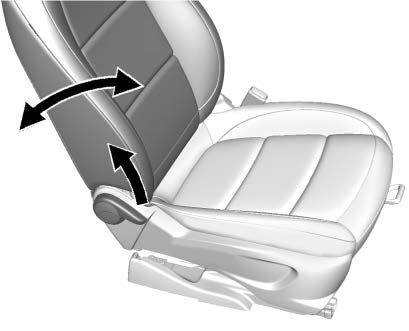 Manual Seat Shown, Power Seat Similar
To recline the seatback:
Lift the lever.
If necessary, move the seat belt out of the way to access the lever.
Move the seatback to the desired position, then release the lever to lock the seatback in place.
Push and pull on the seatback to make sure it is locked.
To return the seatback to an upright position:
Lift the lever fully without applying pressure to the seatback, and the seatback returns to the upright position.
Push and pull on the seatback to make sure it is locked.
Warning
Sitting in a reclined position when the vehicle is in motion can be dangerous. Even when buckled up, the seat belts cannot do their job.
The shoulder belt will not be against your body. Instead, it will be in front of you. In a crash, you could go into it, receiving neck or other injuries.
The lap belt could go up over your abdomen. The belt forces would be there, not at your pelvic bones. This could cause serious internal injuries.
For proper protection when the vehicle is in motion, have the seatback upright. Then sit well back in the seat and wear the seat belt properly.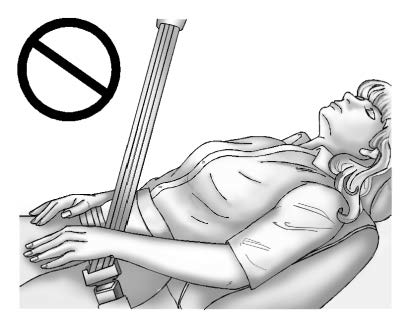 Do not have a seatback reclined if the vehicle is moving.
READ NEXT:
If equipped, the MEM, 1, and 2 buttons on the outboard side of the driver seat are used to manually save and recall the driver seat and outside mirror positions. These manually stored positions are r
Warning If temperature change or pain to the skin cannot be felt, the seat heater may cause burns. To reduce the risk of burns, use care when using the seat heater, especially for long periods of time
The front passenger seatback folds flat. Warning If you fold the seatback forward to carry longer objects, such as skis, be sure any such cargo is not near an airbag. In a crash, an inflating airbag m
SEE MORE:
Everyone in a vehicle needs protection! This includes infants and all other children. Neither the distance traveled nor the age and size of the traveler changes the need, for everyone, to use safety restraints. In fact, the law in every state in the United States and in every Canadian province say
AIR/WIND NOISE Special Tools CH-39570 Chassis Ear GE-41416 Ultrasonic Leak Detector WARNING: An assistant should drive the vehicle while the technician checks for the location of the reported condition. Otherwise, personal injury could result. To analyze a reported windnoise condition, test dri