Buick Encore: Folding Seatback
The front passenger seatback folds flat.
Warning
If you fold the seatback forward to carry longer objects, such as skis, be sure any such cargo is not near an airbag. In a crash, an inflating airbag might force that object toward a person. This could cause severe injury or even death. Secure objects away from the area in which an airbag would inflate. For more information, see Where Are the Airbags? and Vehicle Load Limits
Warning
Things you put on this seatback can strike and injure people in a sudden stop or turn, or in a crash.
Remove or secure all items before driving.
To fold the seatback:
Lower the head restraint all the way. See Head Restraints
Move the seat as far back as possible. See Seat Adjustment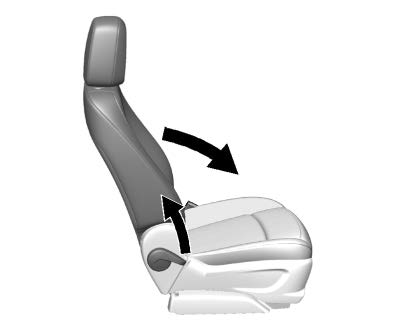 Lift the lever fully and fold the seatback forward.

If necessary, move the seat belt out of the way to access the lever.

Continue lowering the seatback until it is completely folded and locks in place.
To raise the seatback:
Lift the lever fully to unlock the seatback. Then, raise the seatback and push it rearward until it re-engages.
Push and pull on the seatback to make sure it is locked in place.
Warning
If either seatback is not locked, it could move forward in a sudden stop or crash. That could cause injury to the person sitting there.
Always push and pull on the seatbacks to be sure they are locked.
READ NEXT:
If equipped, the message REAR SEAT REMINDER LOOK IN REAR SEAT displays under certain conditions indicating there may be an item or passenger in the rear seat. Check before exiting the vehicle. This f
Warning If either seatback is not locked, it could move forward in a sudden stop or crash. That could cause injury to the person sitting there. Always push and pull on the seatbacks to be sure they a
SEE MORE:
Engine component description Cylinder Block The cylinder hollow frame structured in-line 4 cylinder. The block has 5 crankshaft bearings with the thrust bearing located on the third bearing from the front of the engine. Crankshaft The crankshaft is a steel crankshaft. It is supported in 5 main jour
NOTE: This article is intended for general information purposes only. It does not apply specifically to one make or model. PURPOSE NOTE: This article is intended for general information purposes only. It does not apply specifically to one make or model. WHY USE THE SYMPTOM CHECK LIST WORKSHEETS? O