Buick Encore: Power Windows
Warning
Children could be seriously injured or killed if caught in the path of a closing window. Never leave the Remote Keyless Entry (RKE) transmitter in a vehicle with children. When there are children in the rear seat, use the window lockout switch to prevent operation of the windows.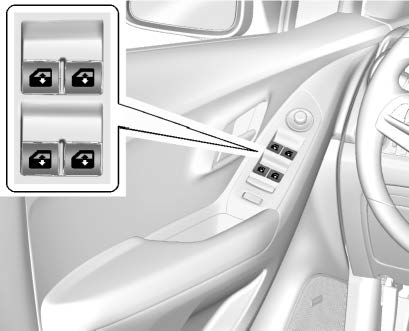 Power windows work when the ignition is on, in ACC/ACCESSORY, or when Retained Accessory Power (RAP) is active. See Retained Accessory Power (RAP)
Using the window switch, press to open or pull to close the window.
The windows may be temporarily disabled if they are used repeatedly within a short time.
Window Lockout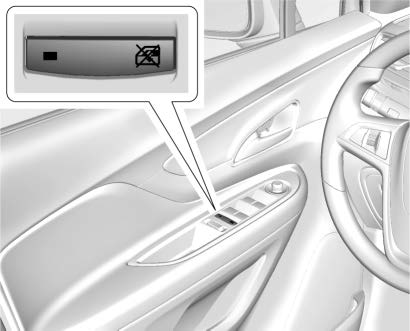 This feature stops the rear passenger windows from working.
Press to engage the rear window lockout feature. The indicator light is on when engaged.
Press again to disengage.
Window Express Movement
All windows can be opened without holding the window switch. Press the switch down fully and quickly release to express open the window.
If equipped, pull the window switch up fully and quickly release to express close the window.
Briefly press or pull the window switch in the same direction to stop that window's express movement.
Window Automatic Reversal System
The express-close feature will reverse window movement if it comes in contact with an object.
Extreme cold or ice could cause the window to auto-reverse. The window will operate normally after the object or condition is removed.
READ NEXT:
Warning If automatic reversal system override is active, the window will not reverse automatically. You or others could be injured and the window could be damaged. Before using automatic reversal sys
Sunroof If equipped, the sunroof only operates when the ignition is on or when Retained Accessory Power (RAP) is active. See Retained Accessory Power (RAP) Slide Switch Express-Open/Express-Close : P
SEE MORE:
AUTOMATIC HVAC DESCRIPTION AND OPERATION The air temperature and the air delivery description and operation are divided into five areas: HVAC Control Components Air Speed Air Delivery Heating and A/C Operation Recirculation Operation HVAC Control Components HVAC Controls The HVAC controls in
Brake assist system description and operation System Component Description The brake assist system consists of the following: Brake Pedal Receives, multiplies and transfers brake system input force from driver. Brake Pedal Pushrod Transfers multiplied input force received from the brake pedal to the