Buick Encore: Rear Vision Camera (RVC)
The RVC can assist when backing up by displaying a view of the area behind the vehicle.
Warning
The camera(s) do not display children, pedestrians, bicyclists, crossing traffic, animals, or any other object outside of the cameras' field of view, below the bumper, or under the vehicle.
Shown distances may be different from actual distances. Do not drive or park the vehicle using only these camera(s). Always check behind and around the vehicle before driving. Failure to use proper care may result in injury, death, or vehicle damage.
An image appears on the infotainment display when the vehicle is shifted into R (Reverse).
The previous screen displays when the vehicle is shifted out of R (Reverse) after a short delay. To return to the previous screen sooner, press any button on the infotainment display, shift into P (Park), or reach a vehicle speed of approximately 12 km/h (8 mph).
Symbols and Guidelines
The RVC may have a guideline overlay that can help you align the vehicle when backing into a parking spot. Select the guidance lines button on the camera screen to enable or disable the guidance lines, or see Vehicle Personalization
The RVC system may have a feature that lets you view Park Assist symbols on the infotainment screen while using the RVC. The Rear Park Assist (RPA) system must not be disabled to use the caution symbols. The error message Rear Park Assist Symbols Unavailable may display if RPA has been disabled and the symbols have been turned on. See Park Assist
Rear Cross Traffic Alert (RCTA)
On vehicles with the RCTA, a warning triangle with a left or right pointing arrow may appear on the infotainment display to warn of traffic coming from the left or the right. Three beeps will sound from the speaker on that side. This system detects objects coming from up to 20m (65 ft) from the left or right side behind the vehicle. The RCTA system will not work properly if ice, snow, mud, or anything else builds up on the rear bumper sensors.
Rear Vision Camera Location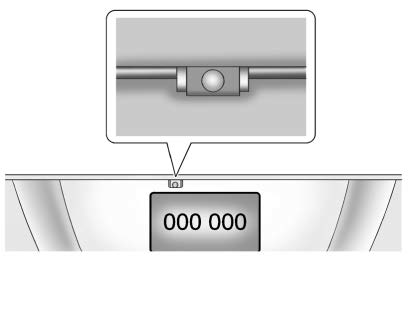 The camera is above the license plate.
The area displayed by the camera is limited.
It does not display objects that are close to either corner or under the bumper and can vary depending on vehicle orientation or road conditions. Displayed images may be closer or farther than they appear.
The following illustrations show the field of view that the camera provides.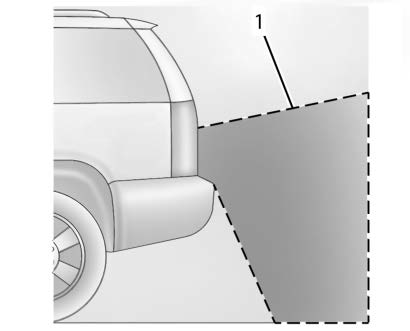 View Displayed by the Camera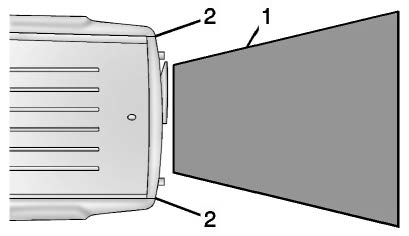 View Displayed by the Camera
Corner of the Rear Bumper
When the System Does Not Seem To Work Properly
The RVC may not work properly or display a clear image if:
READ NEXT:
If equipped, the Front and Rear Park Assist (FRPA) system assists you with parking and avoiding objects. FRPA operates at speeds less than 8 km/h (5 mph). The sensors on the front and rear bumper dete
If equipped, the FCA system may help to avoid or reduce the harm caused by front-end crashes. When approaching a vehicle ahead too quickly, FCA provides a red flashing alert on the windshield and rapi
If equipped, the SBZA system is a lane-changing aid that assists drivers with avoiding crashes that occur with moving vehicles in the side blind zone (or spot) areas. The SBZA warning display will lig
SEE MORE:
This section describes how to use seat belts properly, and some things not to do. Warning Do not let anyone ride where a seat belt cannot be worn properly. In a crash, if you or your passenger(s) are not wearing seat belts, injuries can be much worse than if you are wearing seat belts. You can be s
MANUAL HVAC DESCRIPTION AND OPERATION The air temperature and the air delivery description and operation are divided into five areas: HVAC Control Components Air Speed Air Delivery Heating and A/C Operation Recirculation Operation HVAC Control Components HVAC Control Assembly The HVAC contro