Buick Encore: Steering & suspension systems
These materials are confidential and are not to be disclosed to, or utilized by, any individual or entity other than participants of the Motorist Assurance Program (MAP).
The Automotive Maintenance and Repair Association (AMRA) and MAP do not warrant these materials or guarantee their accuracy, and AMRA and MAP assume no liability for errors.
MAP STANDARDS OF SERVICE
MAP developed standards of service for shops to follow in working with customers. Written from the point of view of customers, and for the use of maintenance and repair shops, the standards expand on the ideas and promises established in MAP's Pledge to Customer
I. Our recommendations are based upon the following definitions
System Failure - Parts/system indicated are out of manufacturers' specifications, have failed or are unable to perform their normal function as intended or designed by the manufacturers. Service/replacement is required.
Preventive/Scheduled Maintenance - Parts/system are scheduled for service/ replacement per industry standards or are near the end of their useful life and repair/ replacement is recommended in advance of parts/system failure. Service/replacement is suggested.
Improved System Performance - Parts/ system indicated are recommended for repair/ replacement to enhance/improve the vehicle's ability to perform as intended or designed by the manufacturer, or as requested by the customer. Service/replacement is suggested.
II. Training/Criteria Our personnel have acquired auto repair expertise through formal education or work experience. Where appropriate, personnel are moving toward certification (e.g. vehicle manufacturer, ASE, etc.) for the services performed. Continuing education will be supported by all MAP participants.
III. Appropriate Company Approved Inspection
We will perform an appropriate inspection based on MAP Uniform Inspection & Communication Standards.
IV. Written Estimates
Written estimates based on our inspection, in compliance with state and local regulations, will include parts (dollar amount), labor (dollar amount), and the total estimate.
V. Work Authorization
No work will be performed without the customer's prior approval.
VI. Limited Warranty
A minimum limited warranty will be offered of 90 days or 4,000 miles, whichever comes first, covering parts and labor.
VII. Returned Parts
All customers will be entitled to the return of old parts, or if they choose, they may examine the parts prior to leaving the store. Where failed parts are required to be returned to the manufacturer in order to honor the warranty, the customer will be allowed to examine the parts.
VIII. Classification of Parts
Replaced parts will be identified as new, remanufactured, rebuilt or used. MAP participants will inform the customer and indicate on the estimate and invoice whether a part is new, remanufactured, rebuilt or used.
THE MAP PROCESS - OVERVIEW
Repair Association, Inc. (AMRA). Participation in the Motorist Assurance Program comes from retailers, suppliers, independent repair facilities, vehicle manufacturers and industry associations.
Our organization's mission is to strengthen the relationship between the consumer and the auto repair industry.
We produce materials that give motorists the information and encouragement to take greater responsibility for their vehicles-through proper, manufacturer / recommended maintenance. We encourage participating service and repair shops (including franchisees and dealers) to adopt (1) a Pledge of Assurance to their Customers and (2) the Motorist Assurance Program Standards of Service. All participating service providers have agreed to subscribe to this Pledge and to adhere to the promulgated Standards of Service demonstrating to their customers that they are serious about customer satisfaction.
These Standards of Service require that an inspection of the vehicle's (problem) system be made and the results communicated to the customer according to industry standards. Given that the industry did not have such standards, the Motorist Assurance Program successfully promulgated industry inspection communication standards in 1994-95 for the following systems: Exhaust, Brakes, ABS, Steering and Suspension, Engine Maintenance and Performance, HVAC, Electrical Systems, and Drive Train and Transmissions. Further, revisions to all of these inspection communication standards are continually re-published. Participating shops utilize these Uniform Inspection & Communication Standards as part of the inspection process and for communicating their findings to their customers.
The Motorist Assurance Program continues to work cooperatively and proactively with government agencies and consumer groups toward solutions that both benefit the customer and are mutually acceptable to both regulators and industry. We maintain the belief that industry must retain control over how we conduct our business, and we must be viewed as part of the solution and not part of the problem. Meetings with state and other government officials (and their representatives), concerned with auto repair and/or consumer protection, are conducted. Feedback from these sessions is brought back to the association, and the program adjusted as needed.
We welcome you to join us as we continue our outreach... with your support, both the automotive repair industry and your customers will reap the benefits. Please visit MAP at our Internet site www.motorist.org or contact us at:
201 Park Washington Court
Falls Church, Virginia 22046
THE MAP PROCESS - OVERVIEW OF SERVICE REQUIREMENTS AND SUGGESTIONS
It is MAP policy that all exhaust, brake, steering, suspension, wheel alignment, drive-train, engine performance and maintenance, and heating, ventilation and air conditioning, and electrical services be offered and performed under the standards and procedures specified in these sections.
Before any service is performed on a vehicle, an inspection of the appropriate system must be performed. The results of this inspection must be explained to the customer and documented on an inspection form. The condition of the vehicle and its components will indicate what services/part replacements may be "Required" or "Suggested". In addition, suggestions may be made to satisfy the requests expressed by the customer.
When a component is suggested or required to be repaired or replaced, the decision to repair or replace must be made in the customer's best interest, and at his or her choice given the options available.
This section lists the various parts and conditions that indicate a required or suggested service or part replacement. Although this list is extensive, it is not fully inclusive. In addition to this list, a technician may make a suggestion. However, any suggestions must be based on substantial and informed experience or the vehicle manufacturer's recommended service interval and must be documented. However, any suggestions must be documented and must be based on substantial and informed experience or the vehicle manufacturer's recommended service interval. NOTE: Vehicle manufacturer service intervals are often categorized as either Normal or Severe. Frequently, motorists are unaware that their driving patterns and habits meet the criteria for following Severe Service schedules. Severe Service is generally defined as, but not limited to one or more of the following conditions: Driving in stop-and-go traffic; frequent short trips; high-speed driving; extreme temperatures; towing or hauling.
Some conditions indicate that service or part replacement is required because the part in question is no longer providing the function for which it is intended, does not meet a vehicle manufacturer's design specification or is missing.
Example: An exhaust pipe has corroded severely and has a hole in it through which exhaust gases are leaking. Replacement of the exhaust pipe in this case is required due to functional failure.
Example: A brake rotor has been worn to the point where it measures less than the vehicle manufacturer's discard specifications. Replacement of the rotor is required because it does not meet design specifications.
Some conditions indicate that a service or part replacement is suggested because the part is close to the end of its useful life or addresses a customer's need, convenience or request. If a customer's vehicle has one of these conditions, the procedure may be only to suggest service.
A customer, of course, has the choice of whether or not a shop will service his or her vehicle. He or she may decide not to follow some of your suggestions. When a repair is required, a MAP shop must refuse partial service on that system if, in the judgment of the service provider, proceeding with the work could create or continue an unsafe condition. When a procedure states that required or suggested repair or replacement is recommended, the customer must be informed of the generally acceptable repair/replacement options whether or not performed by the shop.
The following reasons may be used for required and suggested services. These codes are shown in the "Code" column of the MAP Uniform Inspection & Communications Standards that follow: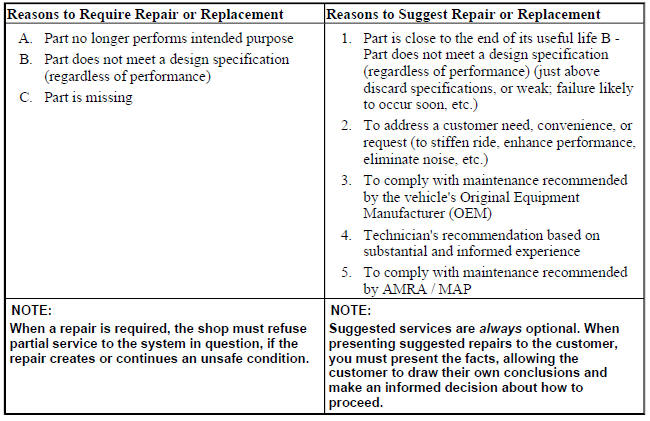 READ NEXT:
Steering and suspension are complex systems made up of a variety of interdependent components. For proper vehicle handling, ride, and tire wear, a thorough inspection is required whenever suspension
Fig. 7: Steering & Suspension Checksheet (1 Of 2) Fig. 8: Steering & Suspension Checksheet (2 Of 2) WHEELS & TIRES CHECKSHEET Fig. 9: Wheels & Tires Checksheet (1 Of 2) Fig. 10
ACTIVE SUSPENSION SYSTEM active suspension systems move each wheel up and down to control body motion in response to road abnormalities. The system responds to inputs from the road and the driver. Wi
SEE MORE:
DTC B2955: Security sensor data circuit DIAGNOSTIC CODE INDEX DTC B2955: SECURITY SENSOR DATA CIRCUIT Diagnostic Instructions Perform the Diagnostic System Check - Vehicle prior to using this diagnostic procedure. Review Strategy Based Diagnosis for an overview of the diagnostic approach.
Transfer case fluid replacement Removal Procedure Raise and support the vehicle. Refer to Lifting and Jacking the Vehicle . Place a suitable drain pan under the transfer case. Fig. 2: Transfer Case Drain Plugs NOTE: Both plugs are to be discarded if removed and NEW plugs installed. Remove