Buick Encore: Certification/Tire Label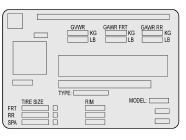 Label Example
A vehicle-specific Certification/ Tire label is attached to the center pillar (B-pillar).
The label may show the size of the vehicle's original tires and the inflation pressures needed to obtain the gross weight capacity of the vehicle. The label shows the gross weight capacity of the vehicle. This is called the Gross Vehicle Weight Rating (GVWR).
The GVWR includes the weight of the vehicle, all occupants, fuel, and cargo.
The Certification/Tire label may also show the maximum weights for the front and rear axles, called the Gross Axle Weight Rating (GAWR). To find out the actual loads on the front and rear axles, weigh the vehicle at a weigh station. Your dealer can help with this. Be sure to spread the load equally on both sides of the centerline.
Caution
Overloading the vehicle may cause damage. Repairs would not be covered by the vehicle warranty. Do not overload the vehicle.
Warning
Things you put inside the vehicle can strike and injure people in a sudden stop or turn, or in a crash.
Put things in the cargo area of the vehicle. Try to spread the weight evenly.
Never stack heavier things, like suitcases, inside the vehicle so that some of them are above the tops of the seats.
Do not leave an unsecured child restraint in the vehicle.
When you carry something inside the vehicle, secure it whenever you can.
Do not leave a seat folded down unless you need to.
READ NEXT:
New Vehicle Break-In Caution The vehicle does not need an elaborate break-in. But it will perform better in the long run if you follow these guidelines: Do not drive at any one constant speed, fa
The vehicle has an electronic keyless ignition with pushbutton start. The RKE transmitter must be in the vehicle for the system to operate. If the vehicle is not working, the vehicle may be near a
Move the shift lever to P (Park) or N (Neutral). To restart the vehicle when it is already moving, use N (Neutral) only. Caution Do not try to shift to P (Park) if the vehicle is moving. If you do, yo
SEE MORE:
DTC B3006: Hood ajar circuit SPECIFICATIONS FASTENER TIGHTENING SPECIFICATIONS Fastener Tightening Specifications SCHEMATIC WIRING DIAGRAMS HOOD LATCH WIRING SCHEMATICS (ENCORE) Hood Latch Fig. 1: Hood Latch HOOD LATCH WIRING SCHEMATICS (Encore) Hood Latch Fig. 2: Hood Latch DIAGNOSTIC INFORMA
Warning A child could be seriously injured or killed in a crash if the child restraint is not properly attached to the vehicle using either the LATCH anchors or the vehicle seat belt. Follow the instructions that came with the child restraint and the instructions in this manual. Warning To reduce th