Buick Encore: Exterior Mirrors
Convex Mirrors
Warning
A convex mirror can make things, like other vehicles, look farther away than they really are. If you cut too sharply into the right lane, you could hit a vehicle on the right. Check the inside mirror or glance over your shoulder before changing lanes.
The passenger side mirror is convex shaped. A convex mirror's surface is curved so more can be seen from the driver seat.
Power Mirrors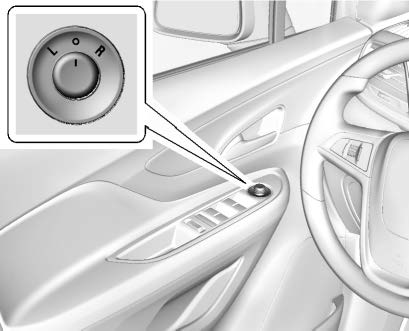 To adjust the mirrors:
Turn the selector switch to L (Left) or R (Right) to choose the driver or passenger mirror.
Move the control to adjust the mirror.
Turn the selector switch to to deselect the mirror.
Folding Mirrors
Manual Folding Mirrors
These mirrors can be folded inward to prevent damage when going through an automatic car wash. To fold, pull the mirror toward the vehicle. Push the mirror outward to return it to the original position.
Heated Mirrors
This vehicle has heated mirrors:

: Press to heat the mirrors.
See "Rear Window Defogger" under Climate Control Systems
Reverse Tilt Mirrors
If equipped with memory seats, the passenger and/or driver mirror tilts to a preselected position when the vehicle is in R (Reverse). This allows the curb to be seen when parallel parking.
The mirror(s) return to the original position when:
The vehicle is shifted out of R (Reverse), or remains in R (Reverse) for about 30 seconds.
The ignition is turned off.
The vehicle is driven in R (Reverse) above a set speed.
To turn this feature on or off, see Vehicle Personalization
READ NEXT:
Interior Rearview Mirrors Adjust the rearview mirror for a clear view of the area behind your vehicle. If equipped with OnStar, the vehicle may have three control buttons at the bottom of the mirror.
Warning Never leave a child, a helpless adult, or a pet alone in a vehicle, especially with the windows closed in warm or hot weather. They can be overcome by the extreme heat and suffer permanent in
Warning Children could be seriously injured or killed if caught in the path of a closing window. Never leave the Remote Keyless Entry (RKE) transmitter in a vehicle with children. When there are child
SEE MORE:
These materials are confidential and are not to be disclosed to, or utilized by, any individual or entity other than participants of the Motorist Assurance Program (MAP). The Automotive Maintenance and Repair Association (AMRA) and MAP do not warrant these materials or guarantee their accuracy, a
STEERING WHEEL AND COLUMN DESCRIPTION AND OPERATION The steering wheel and column has 4 primary functions: Vehicle steering Vehicle security Driver convenience Driver safety Vehicle Steering The steering wheel is the first link between the driver and the vehicle. The steering wheel is fastene