Buick Encore: Raising the Seatback
Warning
If either seatback is not locked, it could move forward in a sudden stop or crash. That could cause injury to the person sitting there.
Always push and pull on the seatbacks to be sure they are locked.
Warning
A seat belt that is improperly routed, not properly attached, or twisted will not provide the protection needed in a crash. The person wearing the belt could be seriously injured. After raising the rear seatback, always check to be sure that the seat belts are properly routed and attached, and are not twisted.
To return the rear seatback to the normal seating position: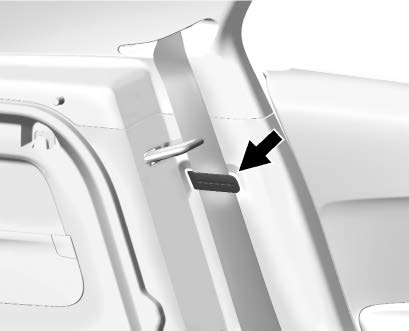 Seat Belt Clip on Side Trim
Remove the outboard seat belt from the seat belt clip (if equipped) on the side trim of the vehicle.
Lift the seatback and push it rearward to lock it in place.

A tab near the seatback lever retracts when the seatback is locked in place.

Make sure the seat belts are not pinched by the seatback locking mechanism.

The center rear seat belt may lock when you raise the seatback. If this happens, let the belt go back all the way and start again. If the seat belt is still locked, try again after pulling the seat cushion out.

Push and pull the top of the seatback to be sure it is locked into position.
Return the seat cushion to its original position and push down on the front part of the seat cushion until it latches.

Make sure the seat belts and seat belt buckles are not trapped under the seat cushion and are properly positioned for use.

Repeat Steps 1-4 for the other seatback and seat cushion, if necessary.
If additional cargo space is not needed, the seatbacks should be kept in the upright, locked position.
Rear Seat Armrest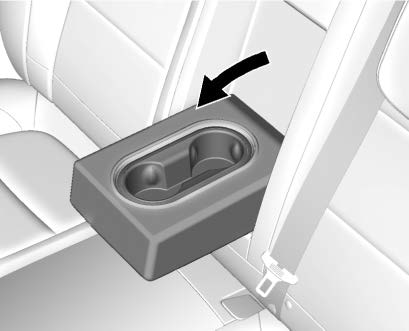 The rear seat has an armrest in the center of the seatback. Lower the armrest to access the cupholders.
To fold, lift the armrest up and push it rearward until it is flush with the seatback.
READ NEXT:
This section describes how to use seat belts properly, and some things not to do. Warning Do not let anyone ride where a seat belt cannot be worn properly. In a crash, if you or your passenger(s) are
Follow these rules for everyone's protection. There are additional things to know about seat belts and children, including smaller children and infants. If a child will be riding in the vehicle, see
All seating positions in the vehicle have a lap-shoulder belt. The following instructions explain how to wear a lap-shoulder belt properly. Adjust the seat, if the seat is adjustable, so you can s
SEE MORE:
SPECIFICATIONS FASTENER TIGHTENING SPECIFICATIONS Fastener Tightening Specifications POWER STEERING PUMP SPECIFICATIONS Power Steering Pump Specifications ADHESIVES, FLUIDS, LUBRICANTS, AND SEALERS Adhesives, Fluids, Lubricants, and Sealers SCHEMATIC WIRING DIAGRAMS POWER STEERING WIRING SCH
The windshield wiper/washer lever is on the right side of the steering column. Move the lever to one of the following positions: HI : Use for fast wipes. LO : Use for slow wipes. INT : Use this setting for intermittent wipes or Rainsense, if equipped. For intermittent wipes, move the windshie