Buick Encore: Vehicle Identification
Vehicle Identification Number (VIN)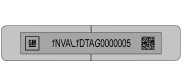 This legal identifier is in the front corner of the instrument panel, on the driver side of the vehicle. It can be seen through the windshield from outside. The Vehicle Identification Number (VIN) also appears on the Vehicle Certification and Service Parts labels and certificates of title and registration.
Engine Identification
The eighth character in the VIN is the engine code. This code identifies the vehicle's engine, specifications, and replacement parts. See "Engine Specifications" under Capacities and Specifications for the vehicle's engine code.
Service Parts Identification
There may be a large barcode on the certification label on the center pillar that you can scan for the following information:
Vehicle Identification Number (VIN)
Model designation
Paint information
Production options
If there is not a large barcode on this label, then you will find this same information on a label inside the glove box.
READ NEXT:
Capacities and Specifications The following approximate capacities are given in metric and English conversions. See Recommended Fluids and Lubricants for more information. Engine Specifications E
Your satisfaction and goodwill are important to your dealer and to Buick. Normally, any concerns with the sales transaction or the operation of the vehicle will be resolved by your dealer's sales or s
SEE MORE:
All seasons tires descriptio Fig. 16: Identifying All Seasons Tire Marking Most GM vehicles are equipped with steel belted all-season radial tires as standard equipment. These tires qualify as snow tires, with a higher than average rating for snow traction than the non-all season radial tires pr
Follow these rules for everyone's protection. There are additional things to know about seat belts and children, including smaller children and infants. If a child will be riding in the vehicle, see Older Children or Infants and Young Children Review and follow the rules for chil